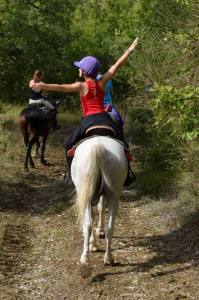 I am in the business of helping people find their joy. More and more, I'm finding that joy is an elusive quality that a lot of folks have a hard time grasping. Everyone seems to be in search of the BIG JOY, what it is that has their hearts pumping and bursting out of their chests. The "little kid" feeling of thrill each morning when you get out of bed and can't wait to see what the day has to bring. I'm all for that kind of joy – it's exciting, it's fun, it's passionate!
But the BIG JOYS are not as reliable and consistent as the little joys. It's the little joys that enliven our days with happiness, gratitude and peace. For me, it's taking the time to notice and integrate the many moments in each day that are small and amazing. It's about taking the time to pay attention and feel the gratitude. My gratitude is always most alive in the presence of animals, nature and my family, but all of those little joy moments don't help me if I don't acknowledge them first.
So, my advice for all of you joy-seekers: plan something that you want to include in this coming year ~ a vacation, a girlfriend's getaway, a journey, a retreat… to experience that BIG JOY. But then, chronicle all of those small moments each day that sustain you in your little joy more consistently.
I bet with a daily practice of this, you will find that your heart is singing more often than not!