Incredible Tuscany by Horseback ~ SOLD OUT

---
Tuscany ~ September 10th – 18th, 2021
~ Vineyards, Villas and Vistas!
Tour Tuscany as it was meant to be seen – not from the back of a bus, but from the back of a horse! Leave the crowds behind, savor Italy in a uniquely local way and immerse yourself in an unforgettable "off the beaten path" experience.
This trip includes one delicious night in Florence and 7 nights in the Tuscan countryside.
---
The Area
From Vallebona the terrain is magnificent and varied, with different rides available each and every outing. You can climb up mount Bardellone for a view of Florence, descend down to the river Sieve, or gallop up to the village Rufina, famous in the world of Chianti wine.
You can ride through vineyards and olive groves to reach the little village of Doccia, or simply stop off in one of the celebrated wine cellars of the area to indulge in some local wine-tasting.
During the trail we will reach the forest of Vallombrosa, one of the finest and most complete forest ecosystem of Tuscany where we will visit the imposing Abbey of Vallombrosa. We will climb up to 1450m with magnificent scenery. We'll admire villages, castles and little churches, historical and artistic heritage of this side of Tuscany.
---
The People of Vallebona
In the midst of typical Tuscany countryside surrounded by olive groves, vineyards, woods, ancient farms and castles, the Melis family has owned and operated Vallebona, offering exclusive riding holidays for over 20 years. The 1000 year old farmhouse, and the bit more recent riding establishment, is well known both in Italy and abroad for the quality of its horses and the experience of its guides. Franco, natural horse trainer extraordinaire during the day and Italian guitar player/ballad singer at night will entrance you with his knowledge of horses and of local and national history. Raimonda is your consummate hostess, easily translating between English, Italian and German, and graciously providing everything needed for a fabulous holiday. Pietro, their son, will win you over with his exuberance and youthful energy and of course, his propensity to stand up and pretend to surf on his horse. And the working students, whether from Germany, Scotland, Italy or further abroad, will warm your hearts with their open kindness and their love of the place and of the horses.
It is in this relaxed, familiar atmosphere that the old stone farmhouse of Vallebona offers its guests peace, beautiful natural surroundings, typical local cuisine and unforgettable riding.

The Horses
The well-being, training of the horses and connection between horse and human is of prime importance to everyone at Vallebona. The Center has 35 horses of different breeds (Maremma, Quarter horse, Sardinian anglo-arab), all of which have been trained or re-trained following the principles of "natural horsemanship" to guarantee maximum physical and psychological condition and reliability. The horses of Vallebona are not restricted to individual stalls, but live together outside in the fields, allowing them to remain healthy, both physically and mentally. The same attention is given to the relationship between horses and riders in order to guarantee each guest their best-suited workmate and partner.
---

Accommodations
Vallebona offers horse aficionados a typical Tuscan farmhouse surrounded by green pastures and beautiful olive groves, from which the farm produces its own extra virgin olive oil. The house originated from a watch tower which belonged to the Guidi Counts in the 11th Century and is only 20 km from Florence, near the town of Pontassieve. Guests are welcomed into a friendly, relaxed atmosphere, far removed from the formality of hotels. Shared bedrooms are simple, airy and spacious, typical of old Tuscan farmhouses.
Farm-to-Table Dining
We all dine together, either indoors or on the terrace, which offers a stunning view of the countryside. The talented chefs offer a vast range of dishes that are of the authentic farmhouse tradition and are all made with seasonal and genuine ingredients.
Italian breakfast: Tea, coffee, milk, fresh bread and butter with various marmalades and honey, yogurt and muesli.
Lunch and dinner: A wide variety of authentic Tuscan country cuisine. Every meal balances different recipes and the flavors that the season's products can offer.
The tables are never lacking for jugs of Chianti wine and 0live oil harvested from the groves around Vallebona.
---
Riding Level
Beginner to Advanced. To make the trip the best possible experience for you, we recommend that you ride one to two days per week starting one to two months prior to the trip, just to get your derrière and riding muscles ready to spend some hours in the saddle.
If you are a beginning rider, it is still possible for you to get ready for this trip. It's your opportunity to become the rider that you've always wanted to be. If you can imagine yourself trotting through the olive groves in Tuscany and cantering by castles and vineyards, the time to start with some riding lessons is NOW! If you are in the Durango, CO area, I can help you find the perfect instructor for you. If you are out of the area, I'm happy to assist you in finding a stable that is the right fit for you.
Fitness level
Beginner. We will be doing some light hiking and exploring each day. To make your trip more enjoyable, we suggest that you have a walking/light workout routine 3-4 weeks prior to the trip.
---

Some words from a past participant:
Tuscan Horse Adventure… there's an entire world of awe and wonder captured in those three simple words, and this excursion did not disappoint! Riding through vineyards and olive groves, trekking up Mt. Giovi, relaxing in fascinating lodgings rich in Italian history and culture… and of course, ample pasta and wine!
It's hard to express… seeing the heartland of Italy in all it's beauty… on the back of an amazingly well-trained animal… with guides that are safe, and experienced, and hilarious! The folks at Vallebona weren't just inn keepers or horse trainers… they quickly became friends intent on sharing the amazing life they have lovingly cultivated.
And although they were wonderful hosts and horse & mountain guides, Trish was our "human guide", fostering a group bond that went well beyond the typical gathering of strangers with coinciding vacation schedules. Her wise, warm, sensitive, and funny nature brought the group together, while expanding our reflexive (and perhaps myopic) perspectives as well. As a group, we learned to take it all in, in new ways which heightened the experience. Part horse whisperer, part human whisperer… Trish took the trip, and all of us, to another level.
– Joe
A personalized wine tour and tasting at one of the oldest wineries in all of Tuscany

Spectacular and diverse riding on the trails and through the vineyards and ancient olive groves of Tuscany

Exploring the heart of Tuscany the slow and easy way

Small and intimate group travel with like-minded people who love horses, slow food and slow travel (space is limited to 8 guests)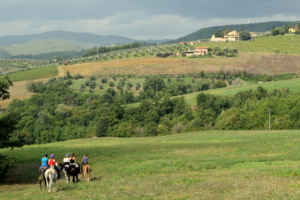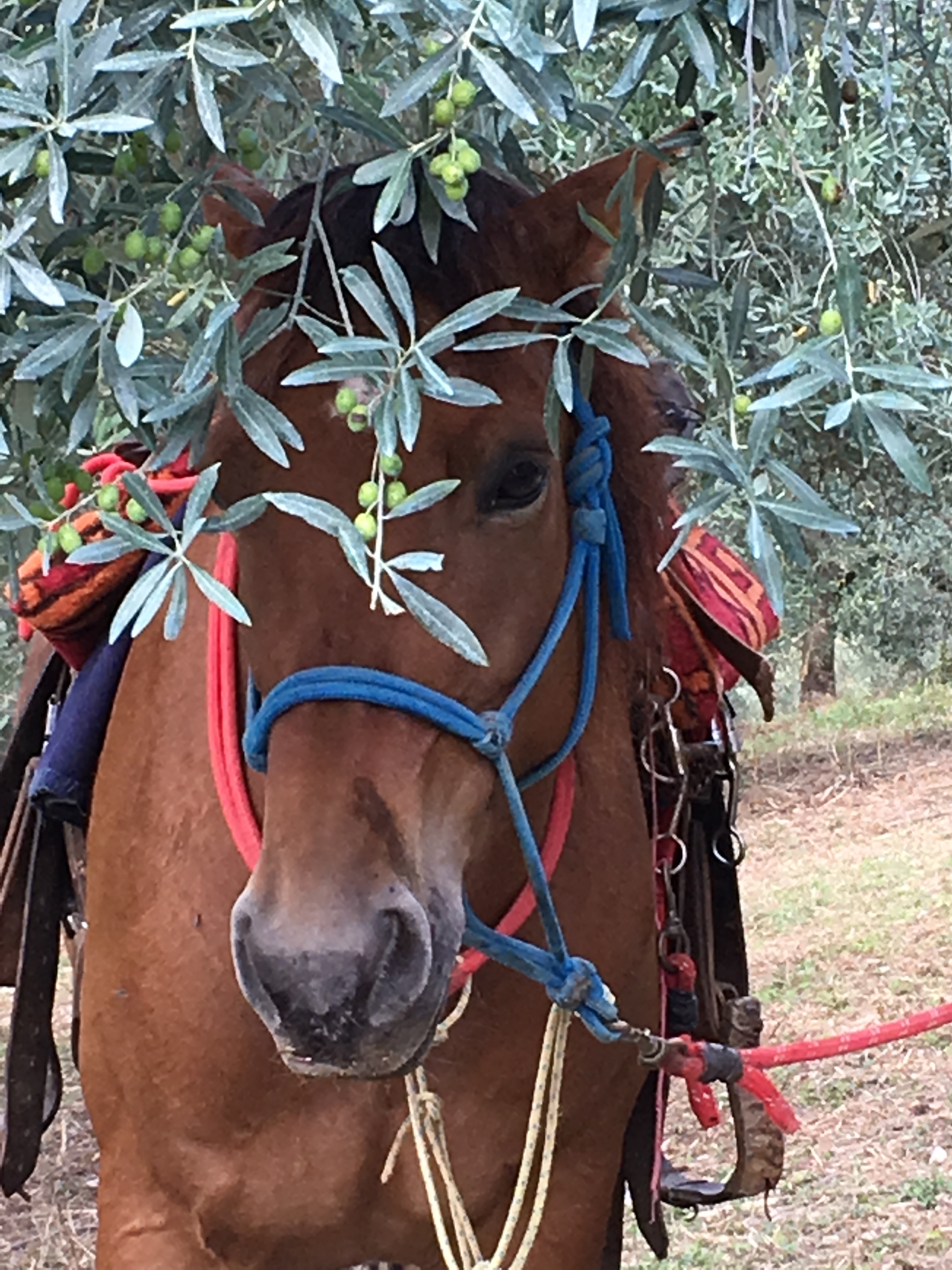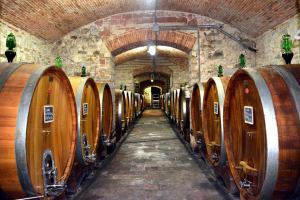 1 nights stay in Florence where we will meet and get to know each other and experience the magic of this ancient city

7 nights accommodations and meals in the 1000 year old Tuscan farmhouse of Vallebona

All horse activities, meals, wine, travel and accommodations while together at Vallebona

Your own horse for the week selected for your riding level, personality and preference

Riding instruction and horsemanship lessons from Franco Melis and the Vallebona instructors and 1:1 equine guided coaching with Trish upon request
A horse ride and a private winery tour to one of the oldest vineyards in Tuscany

A private cooking class. Learn how to make your own pasta with a hand powered pasta machine that has passed down from generation to generation

A private pizza party just for us with a renowned pizza chef from Naples. Discover what pizza is supposed to taste like!

3 private coaching calls prior to the trip so we can get to know each other and I can help you plan your perfect Tuscan trip and 1 private coaching call after the trip to catch up and revisit intentions for your life
Cost:  $4500
*All prices are based on double occupancy. Single occupancy rates are available upon request | Airfare and 1-2 restaurant meals are not included.  Riding itineraries may change due to trail conditions and rider experience levels.
---
Cancellation policy:
If you have to cancel, costs are fully refundable (less deposit) up to 120 days before the start of the trip. Between 60 and 120 days before the trip, 50% of the costs are refundable, less a 3% credit card fee.  If you have to cancel 30-60 days before the trip, the costs are nonrefundable, but are transferable to another person. The trip deposits are nonrefundable. However, this deposit amount may be transferred to another excursion is space is available.