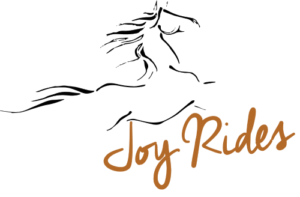 Welcome to Joy Rides
Are you overdue for a change?  Do you want to be happier and more content with your life and your choices?  Do you want a new job, more peace with your current job, more fulfilling relationships, more energy, more clarity, more joy?  Or maybe you just don't know.  All you do know is that you want to stop simply surviving your life and start thriving.  You want to move forward with excitement.  You want to start living your best life and take action to get there.  If this is you, I can help you get there.

Hi, I'm Trish. I'm a wellness and equine-based life coach that believes you CAN have the life that you want. The one that makes you feel happy, fulfilled and successful.
I work with teens and adults who are unhappy with the amount of anxiety, stress and discontent they have in their lives and relationships. If this is you, I will help you unbridle your passions, get excited about your life and learn how to slow down, unplug and connect more deeply with yourself, nature and one another so you can feel happier and more fulfilled.
I offer:
Individualized Coaching Sessions (By Phone or In Person, with or without the Horses)

Horse Riding and Coaching Adventures in the Southwestern United States, Europe and Costa Rica

Equine-based Retreats and Healing Journeys

Equine-based Mindfulness Classes

Group and Corporate Wellness Workshops

Equine and Wellness Business Consulting
Simple coaching techniques can help you:
Be the healthiest YOU you can be

Make decisions with more confidence.

Take control of your anxiety producing thoughts

Be completely present in the here and now

Develop clarity about your next step

Discover what it is that you've been searching for

Bring your head, heart and intuition into alignment

Remember the things that are truly important in your life & reignite your spark
See what other Joy Riders are saying…
Anyone who enjoys adventure, freedom and expansion into the best of life and self-knowledge, will love these trips! This excursion offered the ideal mix of sacred space; freedom and mystery combined with the strength and wisdom of confident, beautiful and supportive women. In our busy lives, with so many responsibilities and so much "doing", it was wondrous to have the chance to reflect and "be" among like-minded people
I have been blown away by the insights and clarity that I have gained while working with Trish Lemke and the horses at Joy Rides. I am no stranger to life coaching, but this was a new level of coaching experience that has opened my eyes to so many things about myself, and offered me wisdom and support in such a new and refreshing way.
The Joy Rides trip was nothing short of perfect and it has settled into my memory and soul in the most wonderful way.  I feel calm, confident and content in a way that I haven't felt in years.  I have some challenging times ahead of me emotionally and I now feel totally up to it because of this trip.   I could say "thank you" 10,000 times and it wouldn't feel enough.
Mindful Cowgirl Musings
You know I'm all about adding more happiness and peace [...]
When people come out to the barn, I often hear [...]
I am in the business of helping people [...]