Step into the Ancient History, Wild Landscapes and Stunning Natural Beauty that is Scotland
Immerse yourself in the culture and traditions of the land of the Scots. This is a week-long riding experience, exploring the stunning landscape of the most south-westerly point of Scotland. Kintyre is the ancient seat of the Scottish kings and the area is steeped in Scottish history from standing stones that predate Stonehenge to the Campbeltown Picture House, the smallest and oldest cinema in Scotland.
The landscape you'll be riding across is hilly, with wide open beaches, rocky crags and magical views out to Ireland and the Isle of Islay.
July 8th-17th, 2022
~Exhilarating Rides, Breathtaking Scenery, Pure Scottish Culture~
Experience a truly unique combination of riding, horseback archery and extra time with your horse to really connect and create a bond of trust and respect.  By getting to know your horse on a deeper level, your relationship can reach its full potential allowing you to have the journey of your life.
~ Time to Rediscover Your Happy and Let Free Your Inner Warrior~
Feel your body twirling as you dance the night away at a traditional Scottish ceilidh.

Walk in the footsteps of kings and queens, peasants and merchants, lads and lasses down the cobblestone streets of ancient Edinburgh, hearing bagpipes in the air and the voices of all those who have come before.

Imagine riding your trusty Scottish horse along the beaches and through the grassy farmlands of the far southwest of Scotland.  View the islands and perhaps see Ireland from your view on top of the craggy cliffs.

Try your hand at Horseback Archery and Discover your Inner Wild Warrior.

Enjoy a scenic drive, a lovely picnic and perhaps a leisurely stroll along the bonnie, bonnie banks of Loch Lomond.
Spend an enchanting day and evening in Edinburgh. Tour the city, dance at a Ceilidh and perhaps have a hike up Arthur's Seat for an amazing city view.

Sit back and relax as we tour around and through the Scottish Highlands, Islands and Lochs.

A day on the beach with your horse.  Ride, play and relax in the surf and along the sandy dunes, all while enjoying stunning views out to the Inner Hebrides.
Discover your inner warrior while spending the day learning the ancient sport of archery by horseback.  Experience the challenge and thrill of watching your arrow hit its mark.

Enjoy your home away from home for the week in a traditional 150 year old traditional Scottish farmhouse, eating local foods and relaxing in the tranquility of Kerran Glen.
A Day of Horses and Archery
Get ready for a day unlike anything you've ever experienced before.  Shooting arrows from your horse will give you an exhilarating experience and help you form a unique bond with your equine partner.  Starting with basic archery skills on the ground, moving to mounted activities and then putting them together to shoot from the back of your horse, giving you a full day of connecting to your inner warrior.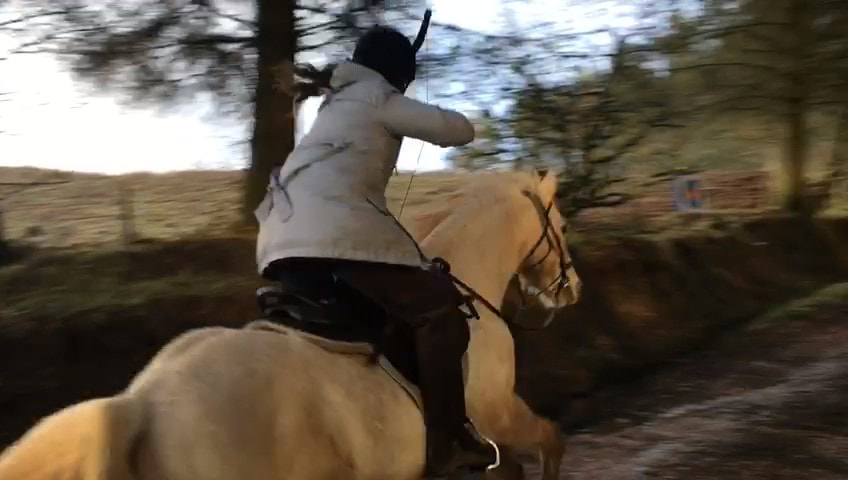 All horse activities, in-house meals, travel and accommodations while together in Scotland

Adventure and cultural activities including a visit to the Edinburg castle, dancing at a Ceilidh, a visit to the local lighthouse, camaraderie and connection with locals....

Riding instruction, natural horsemanship and connection work, mindfulness activities and equine coaching guidance while riding together at the riding centre.

Farm to table meals prepared fresh with the local cuisine of the area.
2 months of bi-monthly phone calls (4 total) prior to our trip to discuss what you hope to discover and gain from the adventure.

1 follow up phone call after our trip to continue the process of self-discovery and mindful living.

9 days and 8 nights of pure off the beaten path, Scottish culture, including two evenings in Edinburgh upon arrival.  I will also be happy to provide my personal guidance on organizing travel plans to and from the country.  Once we meet up at the designated time and place, all of your travel needs will be taken care of.
Words from Nikki and Cara about their horse herd:
"We are very proud of our small team of characterful and willing horses.  They are a young and enthusiastic team between 9 and 22 years of age.  They range in height from 14hh-16.2hh and we have a mixture of types from native breeds (i.e. Connemara, Irish Cob) to more exotic breeds (i.e. Appaloosa, Arab, Irish Sports Horse, Hackney x).  There should be a horse to suit everyone.
We have worked hard to hand select these horses. We would happily ride any one of them all day long, and we regularly do!  The confidence of our horses is important to us.  We want a team that love to work and enjoy the environments we ask them to explore with us.  Using various natural horsemanship techniques we play games with our horse to ensure they are as adventurous as we are.  This has seen them climb in, on, under and over almost anything you can imagine.  They are well travelled by road and sea, and always eager for the next adventure. The truth is, these horses will reflect you.  They are great at getting a sense of the capabilities and aspirations of their riders and they never fail to deliver whether you are looking for relaxation or exhilaration.
Intermediate through advanced.  You need to be comfortable in walk, trot and canter and be able to control your horse when not in a nose-to-tail line. If you haven't ridden for awhile, but are an intermediate rider, for maximum enjoyment of the experience, I highly encourage you to take 6-8 riding lessons before joining me on this trip.  Don't worry, if you're not an intermediate rider and still want to come on the trip, there's still time to take lessons and advance your riding skills before the trip.
***While we all do our best to stick to exact itineraries, sometimes changes are inevitable and flexibility is key!
We will be doing some light hiking and exploring each day. To make your trip more enjoyable, we suggest that you have a walking/light workout routine 3-4 weeks prior to the trip.
Cost: Early bird pricing from now until September, 30th, 2021 - $5200.  Regular pricing after September - $5700

$1000 will reserve your spot and payments plans are tailored to individual needs.

*All prices are based on double occupancy. Single occupancy rates may be available upon request.  Airfare and restaurant meals are not included.
Cancellation policy:
If you have to cancel, costs are fully refundable (less deposit) up to 120 days before the start of the trip. Between 60 and 120 days before the trip, 50% of the costs are refundable, less a 3% credit card fee.  If you have to cancel 30-60 days before the trip, the costs are nonrefundable, but are transferable to another person. The trip deposits are nonrefundable. However, this deposit amount may be transferred to another excursion is space is available.