Hi, I'm Trish.   I work with women, couples and families who are unhappy with the amount of anxiety, stress and discontent they have in their lives and relationships.
I'm an equine-based life coach that believes you CAN have the life that you want. The one that makes you feel happy, fulfilled and successful.
I help you unbridle your passions, get excited about your life and learn how to slow down, unplug and connect more deeply with yourself, nature and one another so you can feel happier and more fulfilled.
I offer:
Individualized coaching sessions and packages (with the horses and without)
Horse riding journeys in the Southwest, Spain, Italy, Costa Rica and Ireland
Equine coaching retreats here in Durango, Colorado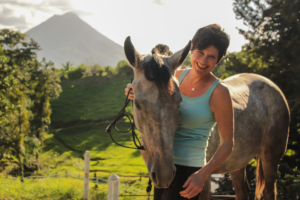 If you are ready to:
Be the healthiest YOU you can be.
Get more from life, but you don't know what the "more" is or how to get it.
Make decisions with more confidence.
Take control of your anxiety producing thoughts.
Be completely present in the here and now.
Develop clarity about your next step.
Discover what it is that you've been searching for.
Bring your head, heart and intuition into alignment.
Slow down and enjoy life.
Remember the things that are truly important in your life.
Reignite your spark.
Then let's get started!