Day One
Meet at 8:00 am in Durango, Colorado where we will begin our journey and drive to the Ute Mountain Tribal Park. Once in the park we will leave our cars behind, unplug from our electronic connections and hike down an easy trail to meet our horses. Our first ride will be a gentle and lovely trail along the Mancos River. Mindfulness activities for the afternoon will include silent meditation practices while riding, broadening awareness of senses, and being fully in tune to your horse and surroundings.
At camp that evening we will take time for horse care, to indulge in an amazing meal, to watch the light move off the canyon walls and to explore the themes of deep connection to self, animals and nature.
Day Two
Rise with the sun to a healthy and delicious breakfast. Takes some time in the early morning to sleep in, meditate in the canyon, discover ancient pottery chards, do some morning sun salutations, visit with the horses as they munch on their breakfast or go for a peaceful morning stroll. The rest of the day will be spent in the saddle and doing some intermediate hiking. We will ride up Soda Canyon and hike to Bone Awl, a rarely visited Anasazi ruin. Mindfulness activities will include journaling, mind-body-heart connection and silent awareness.
After a lovely evening meal, we will talk about finding your joy, rediscovering your passions, and creating a space for you to reach your best self.
Day Three
After a yummy breakfast, we will take time in the morning for relationship building with your horse and to practice empathetic listening. If your horse were to give you one piece of advice on how to live your life, what would it be? After incorporating this piece of wisdom, we will spend the rest of the day riding and hiking. We will hike up to Two Story House, another rarely visited ruin site, and then continuing on, we will climb up a tree ladder to the top of the mesa. Mindfulness activities will include silent walking, mindfulness of physical sensations while hiking, paying attention to our internal dialogue.
Day Four
We will begin our day with another delicious breakfast and reflect on thoughts and feelings about your personal journey over the last couple of days. We will spend some time talking about how to incorporate the mindfulness activities that we practiced into your lives back in the "real world". We will enjoy one more horse ride back out to our cars where we will watch the horses get loaded up in the trailer for their trip back to home. It is here we will say goodbye to each other and go out into the world with a fresh, new perspective.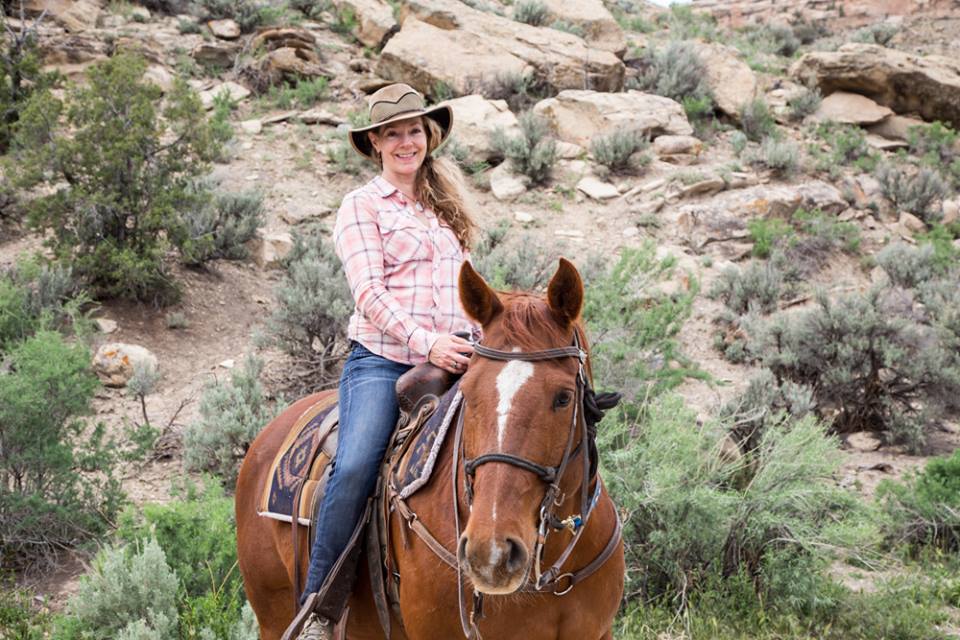 Words from a guest:
The horse trip to the Ute Mountain Tribal Park with Joy Rides was truly transformational. Having been so incredibly fortunate to enjoy many great spiritual and adventure retreats over the years, from surf camps and yoga retreats, to Active New Zealand… I do think what Joy Rides is offering is something really special! Anyone who enjoys adventure, freedom and expansion into the best of life and self-knowledge, will love these trips! This excursion offered the ideal mix of sacred space; freedom and mystery combined with the strength and wisdom of confident, beautiful and supportive women. In our busy lives, with so many responsibilities and so much doing, it was wondrous to have the chance to reflect and be among like-minded people. Trusting the great staff to plan when and where we would eat, guiding us in horse relationship and riding and facilitating guided mindfulness activities, was truly a gift in itself. The time in nature alone was transformational, and the magic of the horses and participating in unique and once in a lifetime pursuits such as silent rides, and hiking to cliff dwellings among ancient pottery shards with NO other people in sight for 3 days have left me with this sacred space within myself forever. I am eternally grateful to Joy Rides for this experience and look forward to the chance to attend a future ride!
~ Jackie