Friday
We will meet in Florence, a city famous for its history, architecture, art and culture.  Plan to arrive in Florence by the early afternoon so you can have time settle in, meet the group, explore the magic of the city and relax to an evening meal together.
Trish will be your personal guide, coach and fellow adventurer along the way and will be with you during every step of the journey ~ before, during and after.  It's like having your own travel guide, life coach and equine specialist with you all of the time.
                     
Saturday
In the morning, we will have time to enjoy a leisurely breakfast and stroll around the streets surrounding the Duomo.  A taxi will pick us up in Florence and transport us to the beginning of our adventure with the horses.
Upon arrival we will settle you into your room at the stone farmhouse of Vallebona, introduce you to the gracious and welcoming Melis family along with their staff of international working students.  We will have time to explore the surroundings, meet the horses and indulge in a delicious 4 course evening meal.   After dinner is an opportunity to revel in the camaraderie of your fellow adventurers,  listen to Franco Melis play some traditional Italian ballads on his guitar, or simply retire early to refresh and rejuvenate for the week ahead.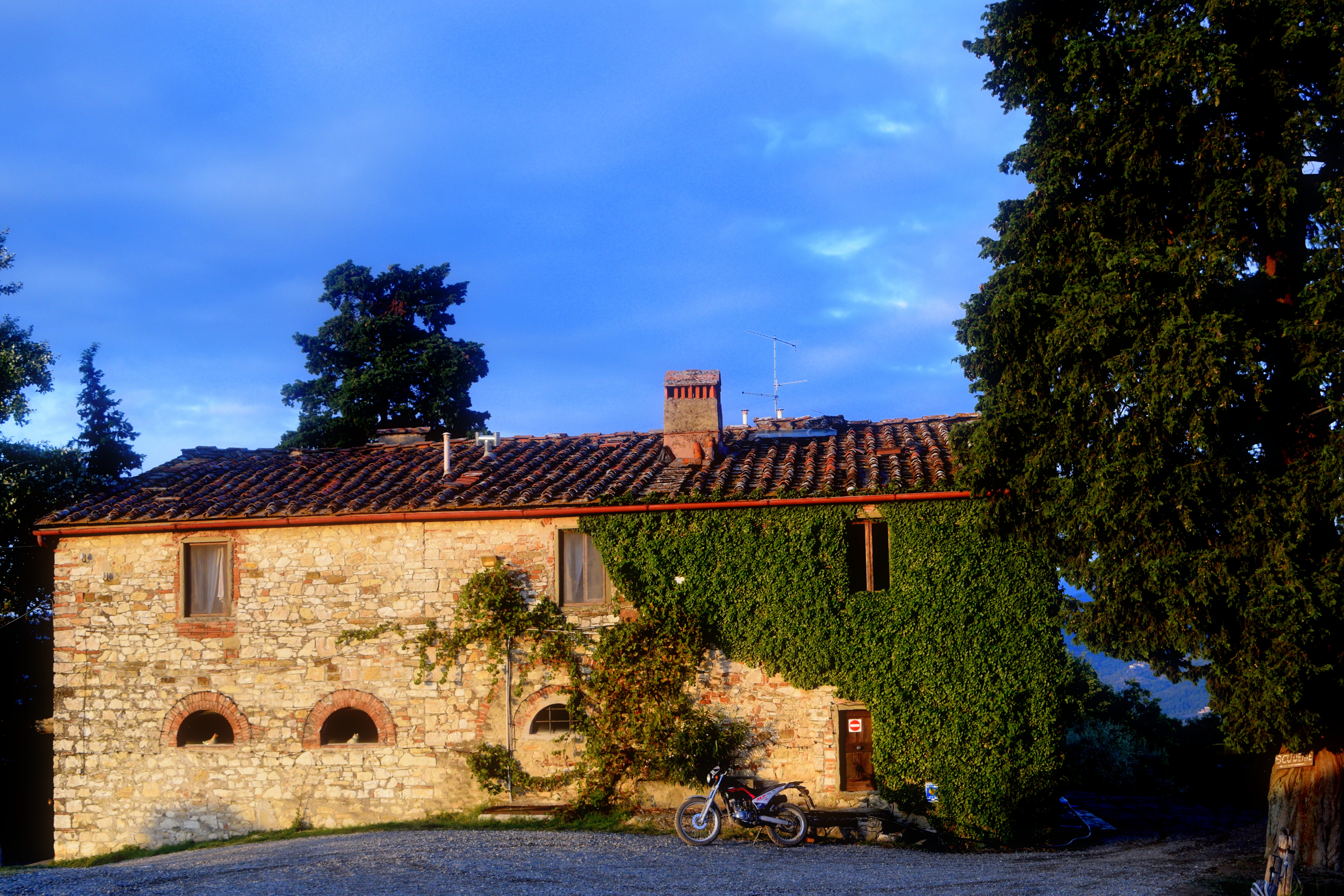 Sunday-Tuesday
In the mornings after a simple breakfast, we will start with taking care of your horse and a lesson in the schooling arena, followed by a lovely 1-2 hour  hack out in the surrounding countryside. Sunday through Tuesday will be filled with relaxing yet exhilarating rides in the hills, with the evenings spent at Vallebona.  Each ride offers a variety of vistas, terrain and unique countryside that can be experienced best only from the back of a horse!
Time seems to slow down in the Tuscan countryside, so after a lovely lunch, there will be many opportunities to relax and take time for yourself.  Whether that means a peaceful walk along the quiet county roads, visiting with your fellow travelers, practicing your Italian with the diverse group of folks that help make Vallebona so unique or indulging in a nap, the time is yours to do whatever it is that makes your heart happy.
Afternoons will provide opportunities to take another horse ride out into the countryside, learn about equine guided coaching in the round pen, take a tour of an ancient winery, have a glass of wine on the terrace of a local restaurant that has views that make you feel like you are in a travel magazine, or try an Italian cooking class.
Evenings will be spent in the traditional Italian way: delicious dinners, the way they were meant to be eaten, slowly and with great company and conversation; as well as music playing and cultural immersion with Franco, Raimonda and their amazing staff.
Wednesday – Friday
We will set off for our progressive trek, leaving from Vallebona through the Chianti vineyards, and traveling through the amazing countryside of ancient olive groves, castles, monasteries and villas.  We will spend four to six hours in the saddle, carrying picnic lunches, and finishing at local inns and farmhouses.  Each lunchtime, there will be plenty of time to slow down for a relaxing meal, take a walk, indulge in a siesta under the trees or simply hang out for some bonding time with your horse.
In the afternoon we reach Castle Ristonchi where we will spend the night. The castle, dating back to the Middle Ages,  overlooks the valley of Arno leading to Florence and offers a stunning view. Ristonchi has a restaurant and a swimming pool, where it is lovely to relax after a day on the saddle.
On Thursday we ride to the impressive Abbey of Vallombrosa dating back to 1008 A.D.
Then, back to Ristonchi through the heart of the forest with 1200 hectares rich with plants, animals and the highest trees (Douglasie) of Europe: 60 meters!
On Friday, the trek back to Vallebona is an immersion into the landscapes and nature of Tuscany, unknown to mass tourism but rich with pleasant surprises such as the villa and chapel of Petroio, a tiny and perfectly conserved 12th Century hamlet. On the last day, we will enjoy our picnic lunch on the banks of a beautiful fresh water lake.
Saturday
We will say "Ciao!" to our beautiful home for the past week and revel in the memories and the stories that our hearts hold.
Our taxi will take us back to Florence, with the option of spending one more night with the group as we await our travel plans or exploring on your own the amazing area that is Tuscany!
Hotel accommodations and food for this day are not included in the price of the trip.