Find yourself in Costa Rica for a week of deep connection to self, the inner horse world, nature and others.  
Experience adventure horse travel, deep discovery, cultural immersion and exploration in the rainforest culminating with a 2 day silent retreat at an exclusive beach front location.
Wake to a day full of possibilities ~ EVERY day!
Dates: February 2019
Costa Rica package includes:
All horse activities, spa treatments, meals, travel and accommodations while together at Leaves and Lizards

Your own horse for the week to build on relationship, communication and trust.  Opening horse sessions will include an activity where the horses are invited to choose who they would like to partner with for the week ~ a magical and amazing experience in and of itself!

Riding instruction, natural horsemanship lessons and equine coaching sessions with Epona instructor, Debbie Graves and Equine Coach, Trish Lemke

Adventure and cultural activities including a day of kayaking down the Rio Frio to experience the amazing wildlife of Costa Rica (beginner friendly) and a ziplining excursion

Cowboy for a day to really immerse ourselves in the Tico lifestyle.

"After-the-ride pampering" ~ spa treatments and energy work based on your initial consultation and spa recommendations.

2 months of bi-monthly phone calls (4 total) prior to our trip to discuss what you hope to discover and gain from the adventure.

1 month of bi-monthly phone calls (2 total) after our trip to continue the process of self-discovery and mindful living.

2 days of bliss and integration at a SILENT RETREAT on the beautiful Pacific coast.
Cost:  $5300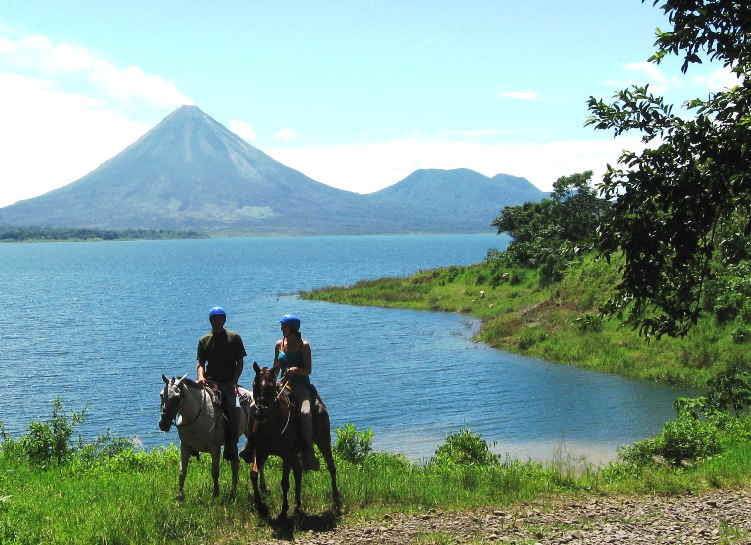 Experience a truly unique combination of adventure- based horse travel, complete immersion into the Costa Rican culture,  and equine guided coaching sessions.
The Equine Guided Coaching experience ~ Immerse yourself in an equine  experience like none other and discover how to choose your best life through way of the horse:
Ignite your spark and learn how to keep it lit through curiosity, joy and balance.

Discover where your intuition lives and learn how to quickly access your own inner wisdom.

Develop a deep connection to your authentic self through immersion in the world of horses, play and nature.

Unbridle your passions that will lead you towards clarity and your lives' purpose

Find your joy so that you may openly and honestly spread it through the world, especially to those you love the most.

Each day includes: adventure travel on horseback, true connection to self, others, nature and horses.
The Adventure-based Horse travel and cultural immersion experience.
Explore Costa Rica like a true Tico – on horseback!  Delve into the rich cultural heritage of horses and explore the rain forests and moutains of the Arenal area.

Experience a unique ride through the lush forests to a private waterfall and discover what swimming with the horses is all about

Laugh and play while we all take our turn at being a Costa Rican cowboy for the day with some local gauchos.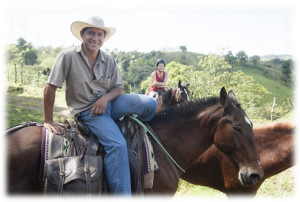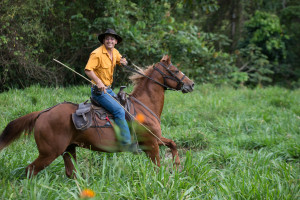 About the area ~ a note from Leaves and Lizards:
Community-based rural tourism offers the opportunity to access without barriers the essence of rural life, and to explore natural landscapes and the least visited natural areas, hand in hand with excellent campesino hosts, while learning from the traditions and way of life of the local population.
Monterrey (aka: Santa Domingo) is a haven for travelers interersted in visiting the Arenal Volcano area. Monterrey sits peacefully in the hills above the busy tourist hub of La Fortuna. This tiny, close-knit community perched in the mountains of San Carlos is home to the Leaves and Lizards Arenal Volcano Cabin Retreat. The location of Leaves and Lizards makes it the perfect place to base out of to experience the people, views and nature of the Monterrey, Costa Rica area.
We believe that tourism should be a support to the community, it should remain in the background and not take over the region's resources. In an effort to contribute to our community, our tours promote rural tourism, encouraging farmers and other locals to show off their farms, waterfalls and forests to our guests. Residents of Monterrey have helped to plant native trees and plants that produce fruit to attract and sustain wildlife around our 26 acres.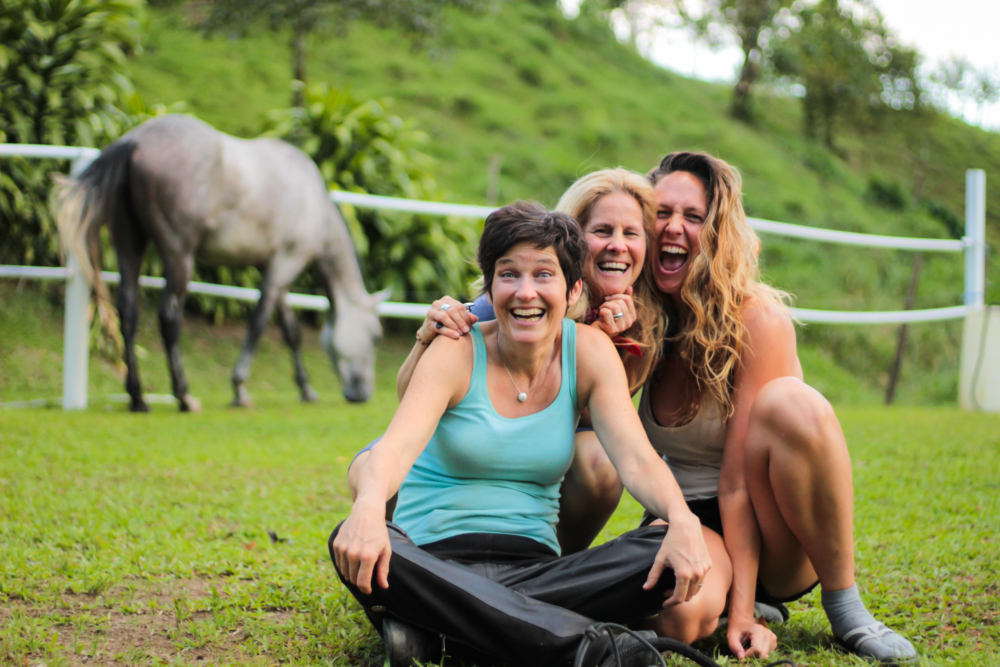 The Horses
The Costa Rica horses, Costarricense de Paso also known as Criolla, are a combination of several Spanish horses (Barb, Andulusian, Arab) and the Peruvian Stepping Horse. This magical combination has created horses with a smooth gait and very comfortable ride. The spirit of these horses will touch your soul. They are fearless, hardworking and extremely versatile; they can perform in a dancing horse parade (Tope) in the morning and round up cattle in the afternoon! The horses at Leaves and Lizards are cared for and trained by Ronald Peres Rojas using natural horsemanship techniques based on the 7 Games of Pat Parelli.
Accommodations
Lodging options are beautifully landscaped, teeming with birds, butterflies and other wildlife. Comfortable, well equipped cabins, perched on hills, offer a tree house feeling and have spectacular, panoramic views of the Arenal Volcano and surrounding mountains. Lodging options are crafted from nine types of tropical hardwoods, harvested using environmentally responsible methods. They feature iPod docking stereo systems, orthopedic beds with quality linen, coffee makers, mini-fridge, microwaves, rocking chairs, hammocks, ceiling fans, games, robes, reference books, spacious porches and private bathrooms with hot showers.
Farm-to-Table Dining
All meals are farm to table fresh and feature the cuisine local to the area. Many of the foods on the menu are organically produced right at the farm, including: milk, cream, sour cream, butter, buttermilk, cheese, a variety of fruits and vegetables, chicken, eggs, beef, and pork.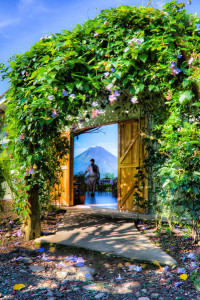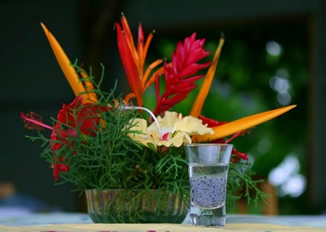 Riding level
Beginner through advanced. If you have only ridden a few times, we highly encourage you to take 2-3 riding lessons before joining us on this trip. If in the Durango area, lessons are available through Joy Rides.
Fitness level
Beginner. We will be doing some light hiking and exploring each day. To make your trip more enjoyable, we suggest that you have a walking/light workout routine 3-4 weeks prior to the trip.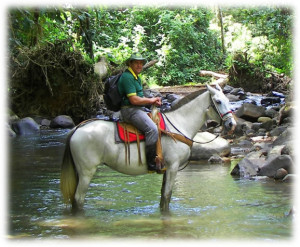 *All prices are based on double occupancy.  Single occupany rates are available upon request
*Trip does not include airfare
Cancellation policy:
If you have to cancel, costs are fully refundable up to 120 days before the start of the trip, less Paypal fees and deposit. Between 60 and 120 days before the trip, 50% of the costs are refundable. If you have to cancel 60 days before the trip, the costs are nonrefundable, but are transferable to another person. The $800 deposit is nonrefundable. However, this deposit amount may be transferred to another excursion if space is available.