Exploring the Trail of the Ancients: September 2017 
Immerse yourself in all the beauty and history in the area of Mesa Verde National Park in Southwest Colorado and leave the crowds behind.  The Ute Mountain Ute Tribal Park is still one of those undiscovered places and it has remained virtually untouched for 1000s of years.

I started going to this incredible land almost 20 years ago and it has left an indelible mark on my spirit.  And everytime I go, it is just as magical and awe-inspiring as the first time.  As the world gets more crowded and life keeps getting busier, this is a place that hasn't changed.  If you are ready to immerse yourself in the beauty of the Southwest, step into a piece of history and renew your spirit, this is the perfect place to do just that.
Join us for 6 days and 5 nights of camaraderie, connection and adventure in a place full of magic and wonder.  Walk in the footsteps of the Ancient Puebloan people and immerse yourself into their rich world of culture, cliffs and ceremony.
Get ready to step back into time and explore the lands, pathways, and ancient dwellings of the People.  We will travel on foot and by horse through remote canyons to  rarely visited cliff dwellings and ceremonial sites. Chances are we will be the only ones in the Park during the entire visit!  Every where you look there is evidence of a long-ago culture that thrived in these lands for over 700 years.  Pottery chards, mano and metates, ancient stone tools, corn cobs, petroglyphs and other artifacts abound.
The area:
The Ute Mountain Tribal Park, all 125,000 acres of it,  is located adjacent to Mesa Verde National Park.  Whereas Mesa Verde is one of the most popular tourist destinations in the Southwest with over 1/2 million people visiting a year, the Tribal Park is an undiscovered gem.  Free of paved roads, lines of tourists, streams of cars and buses; chances are we won't see any other people for the duration of our stay, although we may see some wild horses along the way!  Be prepared to leave modern day society behind and travel back in time to explore the stories and mystery of the Ute Mountain Tribal Park.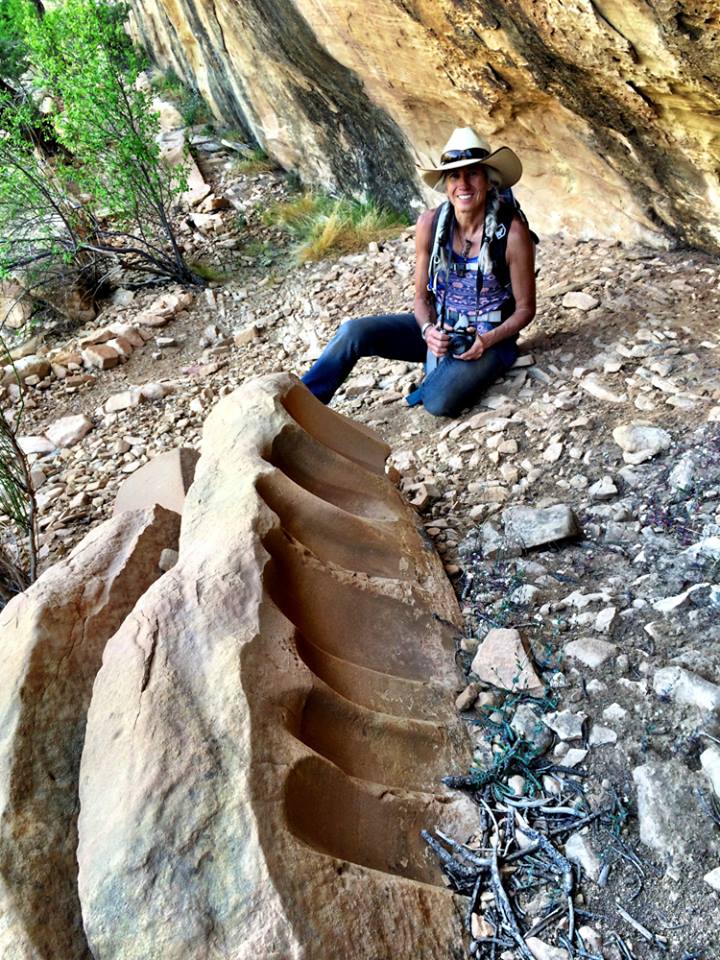 The horses:
Picture the horses of the old Western movies – dependable, strong, stoic, kind… the go anywhere, do anything kind of horse.  These are the horses that will be joining us for this adventure.  Owned, trained and cared for by Anne Rapp, they have the experience to partner with every rider from beginner to advanced.
Accommodations:
This is remote canyon country of Southwestern Colorado.  It is camping at it's best – tranquility and peace combined with gourmet food and roaring campfires.  The Mancos River runs right by camp so you can refresh yourselves in the cool river waters, or rinse off with a solar shower.  You can bring your own personal camping gear such as tents, sleeping bags and pads (which we will transport to camp), or we can provide all gear for an additional cost.
The first two nights will be spent with in luxury at an exclusive ranch just north of Durango.  Have a chance to settle in after your travels with some pampering, mindfulness and horse play.  Wake up to the morning sun, maybe take a nice walk or have a morning yoga
session and watch the horses peacefully grazing from your own private deck.
Words from a guest!
The horse trip to the Ute Mountain Tribal Park with Joy Rides was truly transformational. Having been so incredibly fortunate to enjoy many great spiritual and adventure retreats over the years, from surf camps and yoga retreats, to Active New Zealand… I do think what Joy Rides is offering is something really special! Anyone who enjoys adventure, freedom and expansion into the best of life and self-knowledge, will love these trips! This excursion offered the ideal mix of sacred space; freedom and mystery combined with the strength and wisdom of confident, beautiful and supportive women. In our busy lives, with so many responsibilities and so much doing, it was wondrous to have the chance to reflect and be among like-minded people. Trusting the great staff to plan when and where we would eat, guiding us in horse relationship and riding and facilitating guided mindfulness activities, was truly a gift in itself. The time in nature alone was transformational, and the magic of the horses and participating in unique and once in a lifetime pursuits such as silent rides, and hiking to cliff dwellings among ancient pottery shards with NO other people in sight for 3 days have left me with this sacred space within myself forever. I am eternally grateful to Joy Rides for this experience and look forward to the chance to attend a future ride!
~ Jackie
Dates:  September 27th-30th
Cost:  $3200 per person.  
All prices are based on double occupancy.  Single occupancy rates are available upon request.
Trail of the Ancient package includes:
Your own horse for the trip selected for your riding style, personality and preferences.
2 days at the barn and riding corral to meet and get to know your horse.  We will focus on relationship building and communication, basic riding lessons both on and off of the trail, and a chance to get a better understanding of basic horse psychology.  Accommodations are at an exclusive ranch 2o minutes north of Durango and will give you a chance to soak in some luxury before "roughing it".
Amazing guides and facilitators that know the land, the horses and the history of the area.
Riding instruction and horsemanship lessons from Anne Rapp and equine guided coaching instruction from Trish Lemke.
Daily park permits to go towards supporting the upkeep of the Tribal Park.
Camping gear to include tents, sleeping pads, sleeping bags and a camp chair.
Our spectacular camp chef that will astound you with what she can do with a campfire and a couple of pots.
1 month of bi-monthly phone calls (2 total) prior to our trip to discuss what you hope to discover and gain from the adventure.
1 month of bi-monthly phone calls (2 total) after our trip to continue the process of self-discovery and mindful living.
Not Included:
Airfare
Transportation to and from our meeting points north of Durango and to the Ute Tribal Mountain Park.  A rental car is recommended for convenience, but carpooling is recommended and Joy Rides will assist you in the organization.
Riding level ~ beginner through advanced. If you have only ridden a few times, we highly encourage you to take 2-3 riding lessons before joining us on this trip. If in the Durango area, lessons are available through Joy Rides.
Fitness level ~ intermediate. We will be hiking every day and will be climbing some moderately steep terrain. We suggest that you get on a fitness routine 3-4 weeks before joining us.
Cancellation policy:
If you have to cancel, costs are fully refundable up to 90 days before the start of the trip. Between 30 and 90 days before the trip, 50% of the costs are refundable. If you have to cancel 30 days before the trip, the costs are nonrefundable, but are transferable to another person. The $500 deposit is nonrefundable. However, this deposit amount may be transferred to another excursion if space is available.