Annual Awakenings Retreats ~ August 14th-19th,  2019
Focus theme:  Transformation to Thriving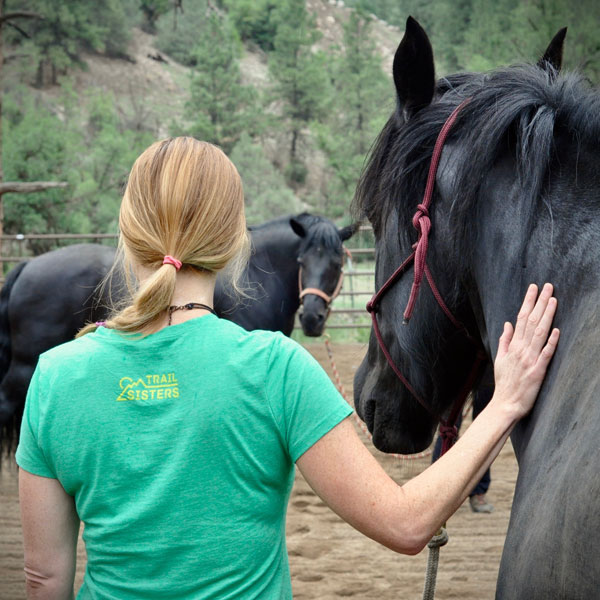 The idea of transformation implies that there are some things in your life that you're not satisfied with.  You want to feel better and be a happier person overall, but you're just feeling a bit stuck with no clear idea of how to move forward.  You want to stop surviving life with all of its' bumps and turns and start truly thriving.  
You're ready to take the reins of life and make some changes.  
A deep dive into the world of horses, nature and shamanic practices may be just what you need in order to jump start your thriving life.
---

---
Are you are ready to:
Stop going through the motions and start truly thriving?

Find balance between taking care of your inner self while maintaining a mindful awareness of what's going on outside of self?

Ditch the stress and overwhelm and replace it with confidence and courage?

Connect with horses, self and nature on a deeper, more mindful, and more soulful level than ever before?

Further deepen your intuitive abilities?

Have more joy, energy and self-compassion?

Have a greater awareness of self, others and the interdependence of all life?

Feel better? Take Charge? Move forward?
Then join us for an extraordinary, integrative retreat designed to nurture and inspire you ~ 5 days of deep connection to self, horses, nature and the mystical. What do you want to awaken to in your life? During this retreat, we will journey in body, mind and soul utilizing a combination of spiritual direction and equine coaching to guide you along your pathway of discovery and action.
We'll explore the themes of the retreat through shamanic journeying, horse experiences, time in nature, mindfulness practices, and silent meditation. And we give you concrete tools on how to stay the course so that you can take charge of leading your most thriving, joyful, intuitive, soulful, and heart-filled life.
---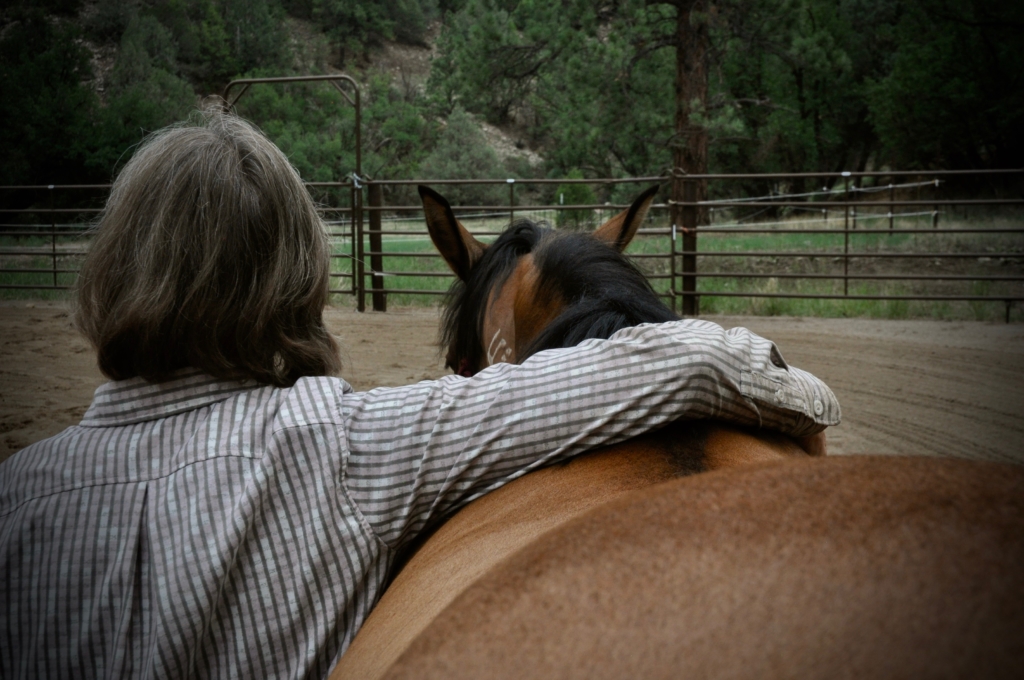 ---
Transforming to Thriving:  5 day Equine Coaching and Shamanism workshop
Our Transformation to Thriving retreat focuses on awareness of where you are currently in your life and where you would like to go.  Where are you just getting by?  Where in your life are you overdue for a change?  What might it look like to go from simply surviving your days to actually thriving? Maybe there are parts of your life that you feel where you're really thriving, but there's no balance with the other areas.  Throughout this retreat we will support you in your discoveries and help you make an action plan on how to move forward with consistency and courage.
Dates: Wednesday, July 17th- Monday July 22nd.
**Because so many people request individual sessions during our retreat time, this year we will be offering private sessions on Monday, after our group farewell. If you would like to stay an additional day and work one-on-one with either Stacey or Trish, please let us know and we can give you a price quote on individual sessions and extra lodging fees.
Cost:  $2500 all inclusive or $2100 local rate (includes full retreat, less accommodations).  All rates are based on double occupancy.  Single occupancy rates are available upon request and are on a first come basis.
---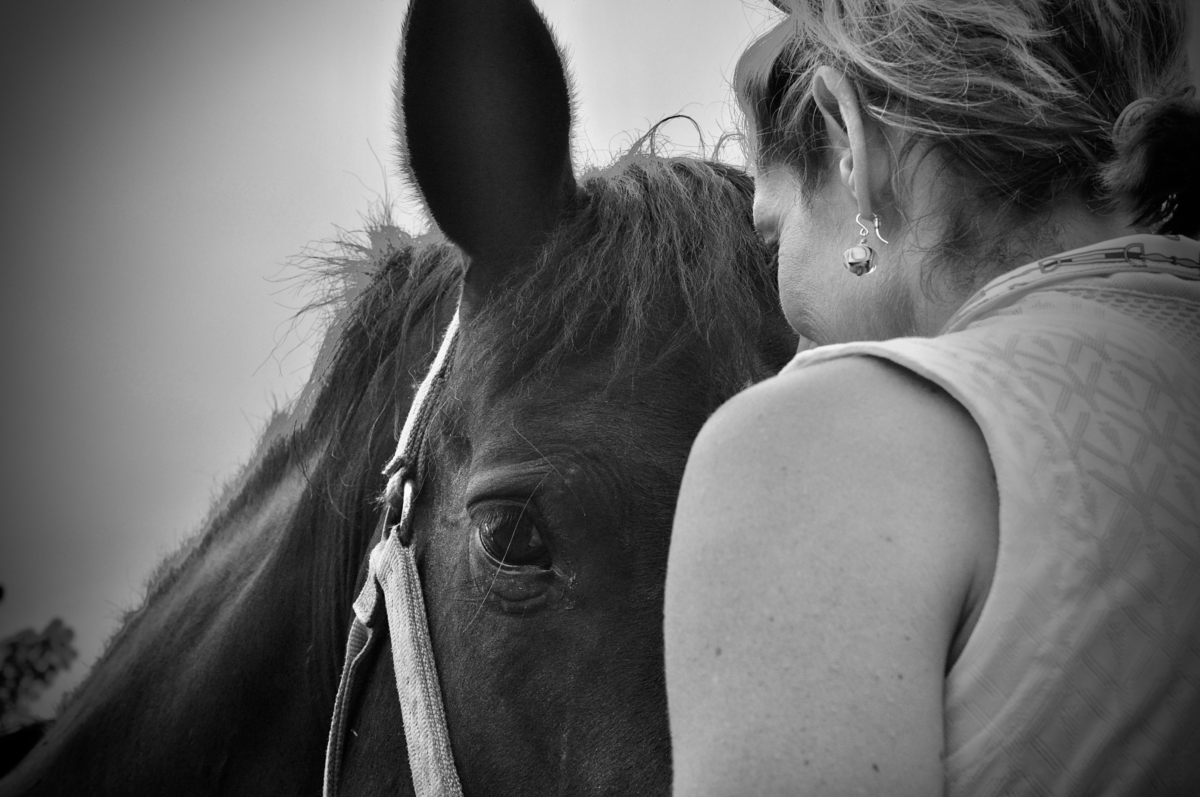 ---
Your All-inclusive Package Includes:
Daily Equine Guided Coaching sessions to help you discover patterns and behaviors that may be creating road blocks to your thriving life.

Shamanic Journey Session to guide you out of survival mode with the aid of spirit animals and spirit helpers.

Spiritual Direction work to help guide you along your path of deepening intuition and divine connection

Accommodations in an amazing rental house on property ~ see the horses grazing from your private deck

Local, organic and healthy meals prepared by our personal and extraordinary chef, Vera Hansen

Time for hiking, artwork or meditation practice

Camaraderie, connection, laughter and discovery with other amazing women from around the country

Come a day early or stay a day late for an optional trail ride, hiking the amazing mountains of Southwest Colorado, floating down the Animas River or to have a day of shopping and wandering in historic Durango (an additional lodging and trail ride fee quoted upon request)
---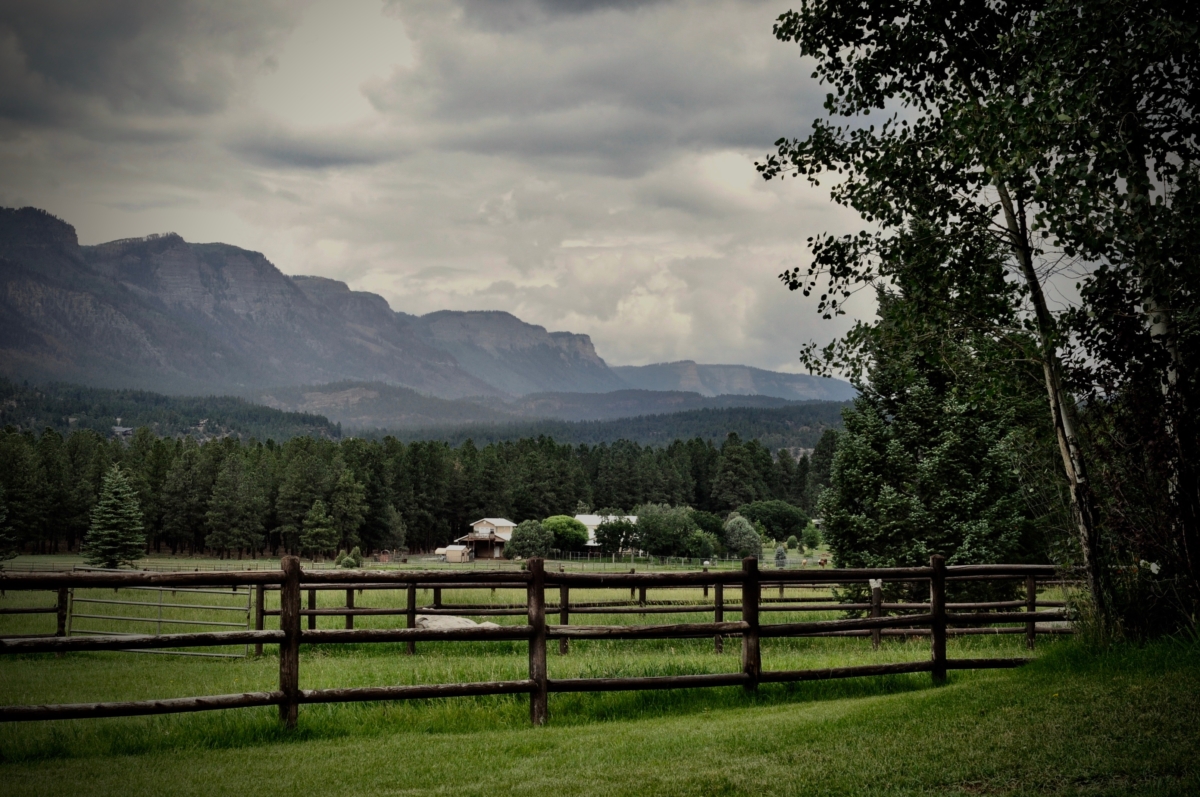 ---
Morningstar Ranch
This retreat is held at Morningstar Ranch, a 38-acre equestrian estate with stunning, unblemished mountain views. Morningstar is situated in the lush Animas Valley about 15 minutes north of Durango, CO. The facilities include a restored barn with horse arena and riding pen, multiple green pastures, and ponds with water features. Lots of beautiful space with the herd makes this retreat an enriching destination. Accommodations for the retreat are in one of two lovely, modern guesthouses with mountain views and all amenities.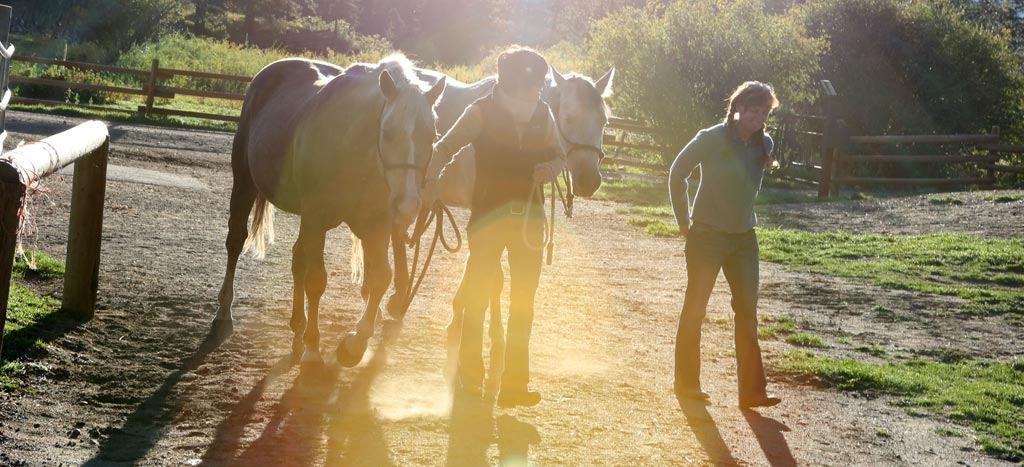 ---
Activities and Themes:
Wednesday, Day 1 – After settling into your accommodations and enjoying a traditional  Southwestern green chili stew dinner, we will start our journey together on Wednesday evening with a discussion on where you are in your life at this time and where you would like to be. We'll talk about the key components of a thriving lifestyle and some shifts that may need to happen for your transformation out of survival mode.
Thursday, Day 2 – Today we will meet our horse partners who will be our companions, guides and helpers for the entire retreat.  In a manner that is completely natural and heartfelt, the horses help us know authenticity, compassion and empathy, both for ourselves and for the world around us. These are their first teachings and provide the very foundation of living a thriving life.
In addition to the horse work today, we will also delve into the world of archetypes and discuss the light and shadow aspects of the survivors.
Friday, Day 3 –To truly live a thriving life, we need to simultaneously have inner and outer awareness.  During a full day with the horses, we will learn about and understand what it means to be more "horselike" in our approach to selves and others and how we can use simple techniques to increase our awareness on all levels. Throughout our day, we will learn basic natural horse communication and behaviors, play with levels of energy and awareness, and work on creating deep connections.  We will also discuss several different archetypes and identify how they relate to the horses and ourselves.
Saturday, Day 4 – Today you will be guided on your own Shamanic Journey, one that is deeply personal and can bring great clarity to what may be blocking you from living a fully thriving life. We'll look at where your energy is in time and space. Are you living mostly in the past, present or future? Then go on a shamanic journey to help you balance your fragmented energy. We will end our evening with a traditional ceremony of creation, gratitude and fire
Sunday, Day 5 –  A morning of integration, we gather together to create and share our vision about the learnings we received from the horses, ourselves, eachother, nature and the practices and ceremonies of the week.  Each retreat goer will come away with a concrete action plan of how you are going to move forward with your transformation to thriving.  The day will end in ceremony with our beloved horses.
---
Schedule:
Wednesday, August July 17th: Please plan to arrive at Morningstar Ranch by 5pm.
Dinner is ready to serve yourself when you arrive.
Evening discussion and official start of the retreat from 6:30 – 8:30pm.
Thursday, July 18th– Sunday, July 21: Retreat hours are 9am to 3pm daily.
From 3:00-5:00 we will have silent retreat hours where you can choose your own activity in order to process the experiences of the day.  You can go for a hike, do some yoga, journal, meditate, have a snack, go for a run, paint, color, dance, explore, blow bubbles, watch the horses… whatever you want to do for yourself that doesn't include talking to others or any electronic devices.
Monday, July 22nd:  Breakfast, packing and farewell. Participants depart by 11am.
Tuesday, July 23rd:  Special individualized sessions available with Stacey or Trish

---
What is shamanism?
Shamanism is a worldview, a spiritual practice, and a healing modality. Many researchers have investigated spiritual practices around the globe and have discovered shamanic traditions at some point in the history of every society.
"Despite its reputation for being ancient or primitive practice, shamanic teachings are as applicable today as they were in ages past. Shamanism continues to be a wellspring of inner wisdom, mystical enlightenment, and healing artistry for all who pursue it." –Matthew Magee in Peruvian Shamanism: The Pachakuti Mesa
A shaman is a healer for her community who is involved in all aspects of health: mental, emotional, physical, and spiritual. She is the mediator between the human community and the surrounding environment (i.e. nature). She performs healing ceremonies to remedy imbalances within individuals and communities, honor that which is greater than us (aka "Great Spirit"), and to solve mysteries.
What is a shamanic journey?
A shamanic journey is a waking dream ~ an adventure into the spirit world where guidance is found, spirit animals and helping spirits are revealed, healing is attained and and a stronger, more intimate connection to the the Divine is yours.
If you long to start or strengthen your connection with your spirit guides, if you want your soul to be uplifted, and if you are looking to feel more alive, partaking in a shamanic journey offers these benefits and many more.
During our weekend together, we journey to retrieve our spirit animals, delve into the realm of shamanism, and experience spiritual healing.
There's no need to worry or have doubts about whether you can "do" this or whether your spirit animals will appear to you. You don't have to have a great imagination or dream-life to be able to journey. Our shamanic practitioner will walk you step by step through the process, making it a comfortable and joyful experience.
---
What is Equine Guided Coaching?
Throughout the weekend our coaches will help you discover your best life and the "you" you want to be through working with our intuitive horses and discovering the messages that they are giving us.  Activities will include both individual and group work with our equine partners and will build upon the messages that you are receiving in your journeys.
If you've never participated in any form of equine guided coaching or learning, you are in for a big treat!  Horses are uniquely gifted at showing you exactly what you need in order to move forward towards your best life. They help you find that "aha" moment and see clearly what are your roadblocks and barriers – real and perceived. They aren't magicians, but simply intuitive animals that have lived thousands of years in a hierarchical herd, dependent on their awareness, relationships and nonverbal communication for their very survival – much the same as people. Over the years, humans have lost much of that awareness, mindfulness, intuition and our own inner wisdom – the very things that guide us towards happiness and success.
During our equine guided coaching sessions, you will learn how to be present in the moment, pay attention to your inner wisdom and come up with the answers to create lasting transformation.
---
What are Archetypes?
Archetypes are "universal patterns of power" that coordinate how you think and feel. An archetype is the original or first pattern from which all others are made of. We all have certain archetypes that are ours to express, but it is easiest to start with looking at the archetypes other people have. You might meet someone for the first time and say, "She's such an angel" or when a friend gets pushy with you, you might exclaim, "Stop being such a bully!"  In this retreat, we will explore your most familiar archetypes, help you discover possible new archetypes and bring awareness into the light and shadow aspects of each.
---
What is Spiritual Direction?
Spiritual Direction is the process by which we explore questions about the nature of the cosmos, spirits, higher powers and our soul. Spiritual direction is a dialogue that delves deep into the mystery of life between a guide (called a Spiritual Director) and a seeker. In spiritual direction we explore mystical experiences that are beyond words, but that long to be expressed. Many of us start on the healing path simply because we want to feel better, but true healing leads us into the sacred. Once we are empowered enough we find that, we stop pursuing the problems of our past and start pondering mysteries of the Divine. This can help open up our lives to the greater mysteries and give us the strength and power to move forward in a more empowered and clearer way.
---
Meet your human guides and facilitators:
Hello, I'm Stacey Couch, the owner of Wild Gratitude. I am a Spiritual Director that is certified in both Shamanic Practice and Archetypal Consulting.
My calling is to help you, the spiritual seeker, discover your inner wisdom and enter into an intimate relationship with your soul. A mentor in symbolic sight, I am here to support your ability to see the overarching cosmic design in your life.
I adore the company of equines and over the years I've found these powerful beasts to be the best companions on the spiritual path. As an avid horse enthusiast, I have hundreds of hours natural horsemanship training and years treasured in the company my own horses. Professionally, I support individual clients via Equine Guided Spiritual Direction.
Equines provide a magical compliment to a deep devotional practice. Their immediate feedback points to what is stirring in our souls. The innate wisdom of horses offers profound healing. A horse's powerful presence taps into an intuitive knowing that helps us find our way through to our own creative selves and to the divine. I so look forward to the opportunity to be your guide on your spiritual journey with horses!
(Pictured here: Stacey with her two mustang mares – Mable (left) and Cherokee (right))